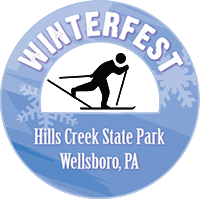 Winterfest is part of the Winter Outings Series – outdoor events January into March!
Free Family Fun at Winterfest!
Activities being planned include: XC skiing, snowshoeing, ice skating, sledding, kids crafts, educational displays, guided hike/snowshoe excursions on a number of topics, educational programs, interactive demonstrations and more!
Bluebird boxes will be back for 2023.
Guided hike topics being planned include: birding, winter tree ID, winter weeds, and family fun.
New for 2023: Wild Winter Tea demo and samples.
Also new for 2023: Solar Viewing and Telescope Demo.
Also new for 2023: Try your hand at cutting firewood with a cross cut saw.
Enjoy hot chocolate and hot dogs – FREE - while they last!
Don't forget your sled!

***If by chance there is limited snow or ice, some activities may be altered ***
ALL FOR FREE
Skis, snowshoes, sleds and skates provided in limited quantities or bring your own. There's fun for the entire family!
Most equipment provided by Wellsboro Parks & Recreation & PA State Parks.
"Step Outdoors" for wintry fun!
*Limited snow or ice may cancel or alter some events. Watch the park Facebook page or call the park if conditions are questionable. Hills Creek Office: 570-724-4246
---
Share Our Website With Your Friends